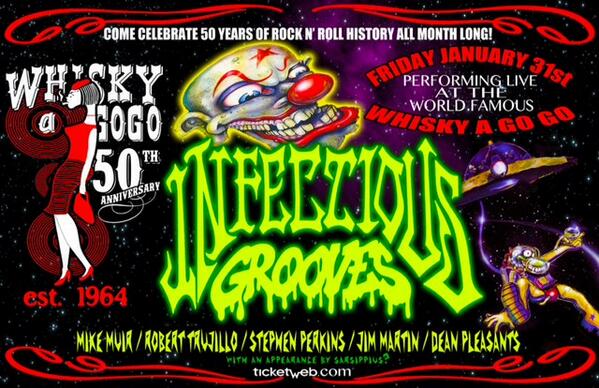 Infectious Grooves have been a real favorite of mine since 1991.  I've seen them several times over the years in concert and still listen to the albums pretty regularly.  Every one of their albums is great.  Killer bass playing, drumming, funky and meal guitar, funny lyrics…. awesome.
I was at the Drum Channel when Stephen Perkins said they were doing the one-off reunion show at the Orion Festival last year, so it was very  exciting to hear that they were doing a show for the 50th anniversary of The Whisky.   After completing lagging when the show went on sale, it sold out before I could get tickets.   Luckily, I was able to get a ticket for the show.
The band came on around 11:00  with Sarsippius and friends.   It took a minute to register that I was really seeing this show.   They did tunes mostly off the first two albums.  It was great to hear their versions of "Fame" and "The Immigrant Song" some 20_ years later.   Robert Trujillo and Stephen Perkins are an incredible rhythm section.   They just smiled and shredded all set long.  Dean Pleasants and Jim Martin (replacing Adam Siegel) made a fine, funky/ heavy guitar team and Mike Muir can still deliver on the vocals.  He never stopped moving during the set.  I have the blurry pictures to prove it.
SET LIST:
These Freaks Are Here To Party
Turtle Wax
You Lie …And Yo Breath Stank
Immigrant Song
Stop Funkin With My Head
Punk It Up
Fame
I'm Gonna Be My King
Green Eyed Lady/ Lights
Monster Skank
Violent & Funky
Boom Boom Boom
Do the Sinister
Therapy?
Infecto Groovalistic
Infectious Grooves